Apprenticeships: Recruit, develop and train new talent with Government support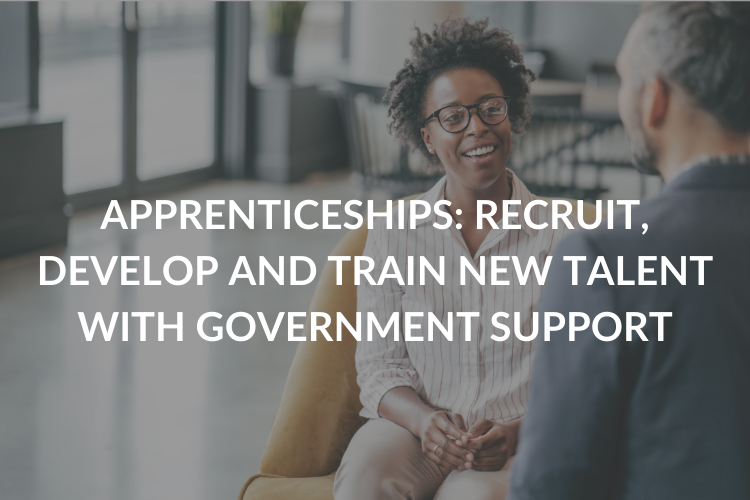 As the live entertainment industry continues to navigate the relentless challenges and financial hit brought on by the pandemic, staff shortages and steep employee expenses have become a common consequence. A survey led by the National Outdoor Events Association with the support of the Department for Culture Media and Sport (DCMS), found that 96% of outdoor event companies were faced with staff shortages, and 83% believe the problem will continue throughout 2022. That said, a strong 58% of companies surveyed said that talent was making its way back into their business (Access All Areas, December 2021).
While the industry is slowly but surely finding more solid ground to build back on, hiring the right talent remains costly and time-consuming, yet essential to support current and future challenges. One way to address this issue is to hire and train apprentices. STAR has partnered with the National College Creative Industries to create an apprenticeship tailored to the ticketing industry, the first ticketing apprentices were recruited by the Royal Shakespeare Company and The Ticket Factory in 2018.
Last month, we shared six reasons why you should hire an apprentice. In this article, we dive deeper into the process of hiring and develop an apprentice, the resources involved and the life-changing impact an apprenticeship can have on the apprentice and the employer.
A snapshot of the employment market
The past 24 months have transformed the world of work in all sectors. The Office of National Statistics found that during the first few months of the pandemic, youth unemployment saw the highest increase compared to other age groups. This relates to young people being made redundant due to job cuts, as well as education leavers not being able to find employment.
A 2021 report by The Resolution Foundation states that a majority (57%) of 16–24-year-olds have been impacted by these drastic changes, affecting their studies, job opportunities and their broader career prospects.
Furthermore, the same report found that the pandemic has affected young people disproportionately, with a considerable gap between Black young people and White young people. In 2019, before Covid-19 hit, 25% of economically active Black 16-24-year-olds were unemployed, compared to 21% of their Asian counterparts and 10% of their White counterparts. In 2020, those rates rose to 34% for Black young people, 23.7% for Asian young people and 13% for White young people. Since the onset of the pandemic, young women who have recently graduated have seen a 28% unemployment rate compared to 8% among young men. (Resolution Foundation, Uneven Steps, April 2021)
The Chartered Institute of Personnel and Development's recent research on youth employment reveals that 43% of young people surveyed feel that the pandemic has had a damaging effect on their long-term career aspirations. The negative impact doesn't stop there; young workers struggle with the lack of social connection through homeworking and worry about their future progression, directly impacting their mental health (CIPD, Youth Employment Report, November 2021). The mental health charity, Mind, found that 68% of all young people surveyed – and 74% of 18–24-year-olds – state that their mental health has deteriorated due to Covid-19 restrictions and lockdown (Mind, The Mental Health Emergency, June 2020).
Unemployment doesn't just affect young people. The pandemic has led to high redundancy rates with unemployment reaching 5% at the fourth quarter of 2020, for people aged 16-64; the highest rate since 2016 (Office of National Statistics, Labour market overview, UK: January 2021). Career breaks have also been a common factor of unemployment and/or inactivity, with an annual average of 90,000 people in the UK taking a career break for various reasons (CIPD).
Why apprenticeships?

Apprenticeships can provide some relief around these significant unemployment numbers, as they give the opportunity for young people to enter the world of work, and for experienced professionals to start a new career. Apprenticeships are open to anyone, at any age and from any background. This entry or re-entry into the workforce is done in a structured way through on the job training and off the job education, giving apprentices the best chances of success. The learning and practical application journey allows them to boost their confidence, regain a sense of progression and security, alongside earning an income.
Apprenticeships have long been supported by the UK Government in an aim to curb the youth unemployment issues. The most recent support is a £3,000 incentive payment from Government to employers taking on an apprentice who starts before 31 January 2022. Now is a great time to take on an apprentice.
Apprenticeships for the ticketing industry
STAR has partnered with the National College Creative Industries (NCCI) to develop an apprenticeship specific to the ticketing industry. If you decide to run this apprenticeship in your organisation, your apprentice will play a full part in your business. The only difference being they will spend a fifth of their time on off-the-job training arranged by the NCCI, allowing them to learn and share best practice in the industry.
This training comprises of:
In-house training including shadowing colleagues in other areas of your business
Attending workshops run by the NCCI
Working with their industry practitioner (tutor) on building an online portfolio
Workshops will be arranged online or at a venue close to the workplace/home to allow managers and apprentices flexibility. Training can also be delivered in the workplace by NCCI industry practitioners (tutors) who have the relevant industry knowledge and expertise to best push forward apprentices' learning experiences.
On the job training
On the job training is specific to the role created by each employer. The apprentice will record evidence of their work through NCCI's easy-to-use online e-portfolio system. NCCI tutors will assess your apprentice throughout their time on their programme and work closely with them to ensure they meet the needs of the Apprenticeship Standard. A final assessment will be carried out by an external assessor from the End Point Assessment Organisation.
Apprentices who do not hold GCSE English and Maths Grade 4+/A*- C will be supported by NCCI to achieve Functional Skills qualifications in these areas.
Upon successful completion, your apprentice will be awarded:
Apprenticeship Standard in Customer Service Practitioner – Ticketing (certificate-graded pass or distinction)
Responsibilities and costs
Employers are responsible for funding the following:
Payment of wages (apprenticeship minimum wage 13 months at 30 hours per week).
Your own administration costs for supporting the apprenticeship.
Company induction.
Educational trips or trips to professional events not specified in the apprenticeship standard or assessment plan.
Time spent by managers supporting your apprentice, such as mentoring or time spent arranging training support by other staff.
Specific services not related to the delivery and administration of the apprenticeship such as additional training which is not a requirement of the Standard qualification.
The cost for training will be £4,000 if you are a levy-paying employer. You would need to set up Access to Music Limited (National College Creative Industries delivery partner) as the training provider in the digital apprenticeship service. More information can be found here: www.gov.uk/guidance/manage-apprenticeship-funds
If you are a non-levy-paying employer, you can reserve funding to cover the cost of training. For 16–18-year-old apprentices, you can reserve 100% of the training costs. For apprentices aged 19+ you contribute just 5% of the £4,000 cost, with the remaining 95% funded by the Education and Skills Funding Agency.
So yes, employing apprentices does incur some costs, but the financial responsibility linked to a fully-fledged recruitment strategy for full-time employees, and in some cases managing employee turnover, is considerably higher. Apprenticeships are a cost-effective solution to a currently challenging recruitment market.
The impact on the apprentice
Starting out or changing careers in our fast-paced and competitive world of work is never easy. Doing so amid a pandemic is a new challenge altogether. Your next apprentice may be someone who has recently graduated, or someone who has taken a career break, or someone changing careers and exploring new avenues. Offering employment opportunities at such a critical time in someone's professional life can have a much deeper impact than anticipated.
For someone who wants a career in the creative industries, apprenticeships are the perfect opportunity to enter and quickly develop within the industry. For those who aren't sure what career direction to take, entering the world of ticketing is just as valuable. Ticketing has a myriad of opportunities across departments, including technology, marketing, social media, customer service, finance, and of course, ticketing. Providing so many exciting and varied options allows apprentices from different backgrounds to enrich the talent landscape within the industry.
The comprehensive training, on and off the job, gives the apprentice the knowledge, skills, and confidence to excel in their role as well as in their studies. It allows them to gain valuable experience that they couldn't have achieved doing a degree alone, or in an unfulfilling job. The guidance and support they receive help strengthen their motivations, enhance their passion, and build a tangible professional portfolio to support their career aspirations.
Gaining personal and professional confidence in a time of high uncertainty can completely shift a person's perspective on the future and create a positive and healthy mindset. These are skills that you, the employer, can give to someone. What are you waiting for?
The impact on the employer
Apprenticeships can benefit employers greatly, from attracting top talent and reducing staff turnover to reducing skill gaps and increasing your diversity – to name just a few.
As an employer, offering apprenticeships is a great way of strengthening your Corporate Social Responsibility, which feeds into your employer branding and reputation. Having a strong employer brand is crucial in every aspect of your business. The more you nurture it, the more rewards you'll reap. According to an evaluation survey led by the National Apprenticeship Service, 67% of employers stated that recruiting apprentices has helped them improve their image, and 69% say that it has enhanced staff retention. If a consumer has a positive opinion of your organisation, they are more likely to spend with you and become a loyal customer. In fact, the same survey found that 1 in 4 consumers are happy to pay more for products from a company that hires apprentices. (National Apprenticeship Service – Achieving the benefits of apprenticeships| A guide for employers, October 2018)
Now, let's look at the benefits internally. Employing an apprentice allows you to tap into a fresh and highly engaged talent pool. A common misconception among employers around apprenticeships is that apprentices generally didn't do very well at school and therefore won't perform as well as someone who has completed a university degree. While this assumption may seem antiquated, it still exists. Apprentices are highly motivated, career-focused individuals, excited about learning while working and earning. They are given an opportunity to gain experience and learn the job at the same time, which is a safe and reliable career path for many. What's more, the National Apprenticeship Service survey found that 74% of employers have noticed an improvement in their products and service quality thanks to apprentices, and 78% state that they have seen improved productivity in their organisation.
When hiring an apprentice, you will utilise resources across your organisation to onboard and train them. By doing so, you are also empowering your current employees to mentor the apprentice, allowing them to learn new skills they would probably not have had the opportunity to gain otherwise. In turn, this boosts employee morale, which reflects on their wellbeing and their performance. The same study shows that 73% of employers with apprentices have seen an improvement in their teams' morale.
Developing your employees has a breadth of benefits, and running apprenticeships enables you to close any skill gaps that may be lingering within your teams. Implementing training programmes for apprentices can allow you to build the knowledge and skills required for the future, while tailoring them to the precise needs of your business. This structure may also pave the way for growth in other areas of the business, creating opportunities for your current staff to upskill and move into more senior roles – all contributing to workforce retention, satisfaction and ultimately advocacy.
Last, but certainly not least, employing apprentices helps you improve diversity in your organisation, by engaging with talent from different backgrounds, ages and levels of experience. The gap in employment opportunities among young people from different ethnic groups is evident, and that finding only applies to 16–24-year-olds. While action is being taken in small pockets of the industry, a collective effort is required to improve diversity from gender and ethnicity to disability, sexuality and age; to effectively represent the communities that ticketing companies serve. According to work by management consultant company, McKinsey & Company, the most racially, ethically and gender diverse companies are more likely to have superior financial returns. (Creative Industries Federation, Creative Diversity Report, 2015).
Interested in apprenticeships for your organisation?
Contact Will Quekett, STAR council member via will.quekett@star.org.uk to find out more.
To find out more about apprenticeships and STAR's partnership with the National College Creative Industries, watch our webinar recording on apprenticeships in the ticketing industry, hosted earlier this year: https://www.youtube.com/watch?v=kpdqczii4do
Additional resources: