Six reasons why you should hire an apprentice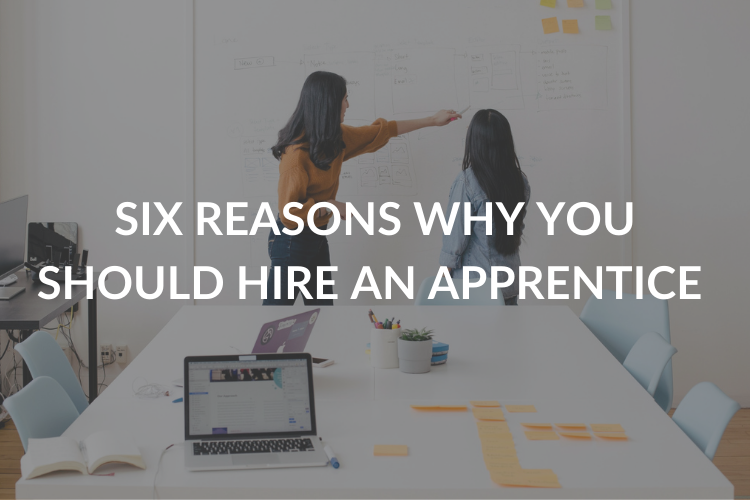 At STAR, we're delighted to have partnered with the National College Creative Industries to create an apprenticeship tailored to the ticketing industry. The first ticketing apprentices were recruited by the Royal Shakespeare Company and The Ticket Factory in 2018.
As ticketing companies look ahead and position themselves for growth, and with the support of the Government's financial incentives, now is an ideal time for employers to consider taking on an apprentice.
An apprenticeship is a training programme that provides the apprentice with on-the-job paid work experience and off-the-job learning. Available across industries, it offers people from all backgrounds the opportunity to enter a new career or role. Apprentices must be 16 or older to start the scheme.
Apprenticeships are particularly appealing to young adults, as they are an effective way to enter the world of work; even more so after the pandemic which has deeply impacted youth employment. A 2021 study led by the Chartered Institute of Personnel & Development (CIPD) found that there are "over 243,000 fewer young people in employment compared with pre-pandemic levels", and "43% of all young people feel the pandemic has harmed their long-term career prospects." (Source: Youth employment in the UK 2021, CIPD)
But apprenticeships aren't solely for young people and there is no maximum age to become an apprentice. It's an ideal option for anyone considering a career change.
As an employer, hiring an apprentice carries a breadth of benefits, from recruiting highly engaged talent to enhancing your competitiveness. In this blog, we share six reasons why you should consider offering apprenticeships within your organisation.
Attract and retain new talent from diverse backgrounds
Running an apprenticeship scheme allows you to explore recruitment opportunities with new talent, regardless of their age, background and whether they are recent graduates or experienced professionals. These individuals are new to your industry, bringing fresh ideas, renewed energy and different perspectives. They are eager to contribute positively to your organisation's mission and vision. Attracting and developing highly engaged people early on in their career supports your talent retention down the line.
The pandemic has considerably impacted the recruitment, development and retention of top talent across sectors. Within the ticketing industry, staff shortages, inconsistent processes and the increase in customer enquiries are leading to ticket sellers and venues not being able to perform efficiently, jeopardising their reputation and ultimately, their future. Hiring the right talent while providing life-changing opportunities for people is now more important than ever.
Design a training programme tailored to the needs of your business
Business needs change. While these changes are often necessary, they also require agility, adaptability and resilience from your people at all levels of your organisation, which is a tough balance to strike.
Bestselling author on personal time management, Alan Lakein, said, "Planning is bringing the future into the present so that you can do something about it now." Planning your talent for the future is crucial to be prepared for unpredictable challenges and recognising the right opportunities to embrace.
Through apprenticeships, you can tailor the learning journey of your apprentice(s) to suit the short and long term needs of your business. Developing your talent to become future-fit allows you to always be a step ahead and remain competitive in the market. Apprenticeship schemes allow you to shape the future of your business through the knowledge and skills of your people, while supporting their motivation and strengthening their capability.
Provide a career development path for apprentices
The CIPD's latest research on youth employment in the UK shows that young people have not received sufficient support through their education when it comes to preparing for their entry in the world of work and understanding their future careers.
Another key finding in the report highlights that "the qualifications young people hold are viewed as more necessary to get their current job, rather than carry out their job effectively."
(Source: Youth employment in the UK 2021)
When hiring an apprentice – regardless of their age or experience – not only do you provide them with paid work experience in the short term, but you also give them visibility on what their career could look like in the long term, encouraging them to listen to and follow their ambitions.
Take advantage of government funding and grants
The UK government has put in place financial incentives to support all industries and provide more accessible employment through apprenticeships. As an employer, you can receive a £3,000 government grant if you hire an apprentice who has an employment start date between 1 October 2021 and 31 January 2022, and who starts their apprenticeship between 1 October 2021 and 31 March 2022. This only applies to new hires. Grant applications open on 11 January 2022 and close on 15 May 2022. (Source: Financial incentives for employers, Gov.uk).
Whether or not you pay the apprenticeship levy, you can also get government funding to support the training and assessment of your apprentices. The funds depend on where you are based, the size of your organisation and if you pay the levy. Find out more about how to get funding here.
Apprenticeships are a cost-effective recruitment solution
Apprentices must work a minimum of 30 hours per week and with a minimum wage of £4.30 per hour. At least 20% of those contracted work hours must be allocated to off-the-job training, aiming to develop the relevant knowledge, skills and behaviour to excel on the job and complete the apprenticeship. The compensation received by the apprentice prevents them from accumulating debt and supports a stable living situation. Paid work combined with consistent learning also gives the individual the confidence and motivation to complete the apprenticeship, helping them avoid dropping out.
Apprenticeships are also highly cost-effective for you, the employer. Employee turnover and recruitment can be very costly, considering high administrative fees and time-consuming hiring processes.
However, apprenticeships give you an opportunity to find, develop and retain highly engaged talent, with the ongoing support of dedicated professionals, ensuring the apprenticeship is a success. The process is in large part government-funded, allowing you to focus on the skill development and allocation of resources.
As an employer, you will be responsible for funding part of the apprenticeship, including but not limited to; payment of wages, any administration costs required to support the apprenticeship, any additional training not specified in the apprenticeship standard or assessment plan, and time spent with managers during the company induction and all throughout the apprenticeship.
However, the return on your investment will be tenfold. You get to shape the next generation of employees, ensuring the skills in demand tomorrow are learnt and implemented today.
"The pandemic has hit businesses very hard. Alongside the altruistic element of giving young people an opportunity to start work, and the government incentives, there's also the consideration that this is a very cost-effective way to start building back your staffing." – Sarah Dodwell, Marketing & Business Development, NCCI Access Creative College
Enhance your employer brand
Providing employment opportunities, nurturing apprentices with the potential of hiring them at the end of their learning journey and offering a meaningful experience to all employees are key factors to enhancing your employer brand and competitiveness in the talent market. When hiring an apprentice, it's crucial to prepare the support system that will accompany them on their learning journey, including mentorship and team collaboration. Offering a great employee experience from day one allows you to reap the benefits on the long-term.
Apprenticeships give employers the structure to put in place or build upon the essential elements to achieve great employee experience. These include:
Promoting peer-to-peer support and collaboration
Listening being attentive to their needs
Supporting their learning and development
Enabling them to step out of their comfort zone
Giving them the space and time to make a positive impact in their role
An engaged apprentice becomes a loyal employee. A loyal employee will create strong advocacy that no marketing campaign or sales pitch can match.
"It's the ideal time to try out apprenticeships, because all the required support is in place." – Angela Walsh, The Ticketing Company (NEC Group)
To find out more about apprenticeships and STAR's partnership with the National College Creative Industries, watch our webinar recording on apprenticeships in the ticketing industry, hosted earlier this year: https://www.youtube.com/watch?v=kpdqczii4do
Interested in starting an apprenticeship programme? Contact Will Quekett, STAR council member via will.quekett@star.org.uk to find out more.