The 5-step guide to returning to events safely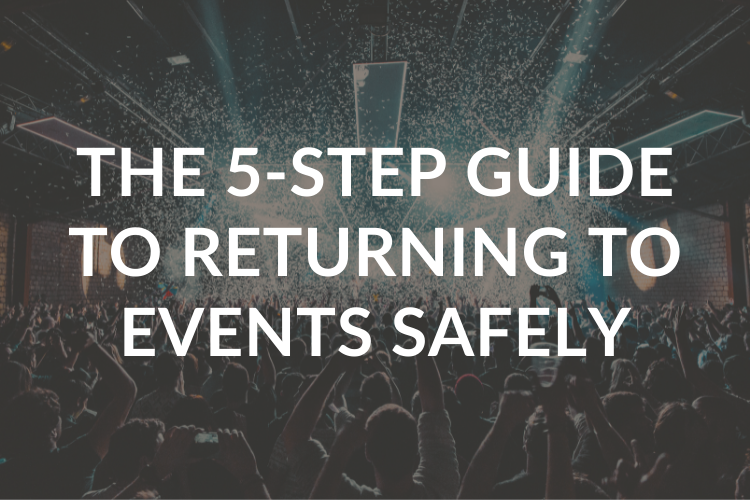 It's been a long time coming, but live events are finally back! As venues open up and prepare for the return to full capacity, being considerate towards others and sticking to the guidance is paramount in helping to avoid yet another lockdown.
Events and venues are gearing up and creating Covid-secure spaces that allow fans to experience a positive and memorable return to live events, from cleaning more often to creating designated routes to optimise crowd movements. However, it's everyone's responsibility to ensure the return to live events happens safely.
So, you've just bought your ticket (hint: preferably from a STAR member), and you are ready to go! While this might feel a little odd at first (after all, lockdowns have got you used to nights in), these simple steps will help you feel confident when attending that long-awaited event.
Step 1: Make sure your ticket is accessible online or print your ticket at home
To avoid queuing and reduce contact with venue staff, most tickets will be e-tickets (accessible online or via the venue's mobile app or as an attachment to an email that you can open and present on your phone or save to an Apple or Google Wallet) or available to print at home.
Unless stated otherwise, don't expect to pick up your tickets in person at the venue. If you are attending with a group of people, check that there's an e-ticket or a printed ticket for everyone in your party. Sometimes it is possible for you to electronically transfer individual tickets to members of your group.
Can't find an email with your tickets attached? E-tickets that are emailed can sometimes end up in junk/spam folders, so make sure you check there. If you find them, add the sender email address to your contacts to try and ensure any future emails don't go the same way. If you can't find the ticket at all, contact the company you bought it from.
If you are asked to print a paper copy of a ticket but can't, check what precisely is required by the venue. Sometimes you can take a screenshot of your ticket and that will be accepted for entry. However, this may not be the case at every event or venue.
When you arrive at the venue, make sure you have your ticket ready to be checked to avoid unnecessary queuing and delays.
Step 2: Check the venues safety requirements
Before attending an event, make sure you familiarise yourself with the venue's requirements. By buying a ticket for the event, you agree to follow the safety rules put in place by the event organisers and venue staff. If you don't agree to these terms, you may be refused entry.
All rules should be clearly explained on the venue's website and/or on your ticket confirmation or other dedicated email communications.
You don't need to be vaccinated against Covid-19 to attend a live event. However, if you are willing and able, receiving two doses of the vaccination is the best way to protect yourself and others from Covid-19. You can easily book your vaccination here.
In line with the latest government guidelines, you could be expected to:
Provide your Covid status; i.e. proof of double vaccination, a negative test result, or a medical statement proving your natural immunity. Only one of these things is usually necessary to get the Pass. In England (check for different provisions in Scotland, Wales and Northern Ireland), your Covid status can be shown by:

Downloading the NHS App (different from the NHS Covid App, used for Track & Trace) and logging relevant information to obtain an NHS Covid Pass. You might also consider saving or printing a PDF copy of the Pass or save to your Apple Wallet on iOS devices.​​ These options are available in the NHS App.
Show a text or email confirmation of your test results from either a PCR or rapid lateral flow test
Request a letter by calling the NHS on 119

Check-in at the venue
Get your temperature checked
Wear a face covering while moving around the venue
Sanitise your hands on entry
These requests will vary according to the venue and the type of event, and are more likely to apply to indoor events rather than outdoor gatherings. It is also important to note that there may be regional variations depending on requirements made by local authorities and devolved governments.
Whatever may be asked of you, be respectful. Venue employees have your safety in mind and want to guarantee an enjoyable experience.
Step 3: Take a Covid test
Whether you've been vaccinated or not, taking a rapid lateral flow test is the easiest way to know you are not putting anyone around you at risk and allows you to attend the venue worry-free. Other fans do it for you. Why not do it for them too?
Lateral flow tests are free and can be collected at your local pharmacy or ordered online here.
Check the venue or event policy on Covid illness and self-isolation as some, though not all, can offer flexibility. If you are offered ticket protection for a small additional fee it is worth considering this as it may cover your inability to attend a performance because of Covid illness or a requirement to self-isolate. Always check the details of the protection that is being offered.
Step 4: Bring a mask and hand sanitiser
Wearing a face covering and sanitising our hands have become habits. Habits that help protect.
As social distancing rules no longer apply in most indoor spaces, make sure to carry a face covering with you in case you are asked (or required in Scotland) to wear one when moving around the venue, for your safety and the safety of others.
Although hand sanitisers will be made available in most venues, it's much easier to bring your own small bottle to avoid moving around the venue looking for one. However, some venues don't allow you to take liquids in with you or restrict to a small amount.
Step 5: Enjoy!
Probably the best (and easiest) step to take! Enjoy the experience, the energy, the buzz of the event. You've waited long enough. This much-anticipated return will give you a sense of normality and regained freedom. One we cannot take for granted. Make it last!
Arrive in plenty of time before the show or look out to see whether any staggered arrival times have been put in place.
Live events are for everyone to enjoy, so it's important to stay mindful of others and responsible for our actions, so we can all make sure live events remain open and accessible to all.
For more information about attending live events safely, visit the resources below:
The great majority of ticket purchases go smoothly, but occasionally things can go wrong. If you've had a problem in buying tickets or with tickets you have bought, we might be able to help you.. Visit our dispute resolution service: https://www.star.org.uk/dispute-resolution/.