STAR Council Member Spotlight – James Broderick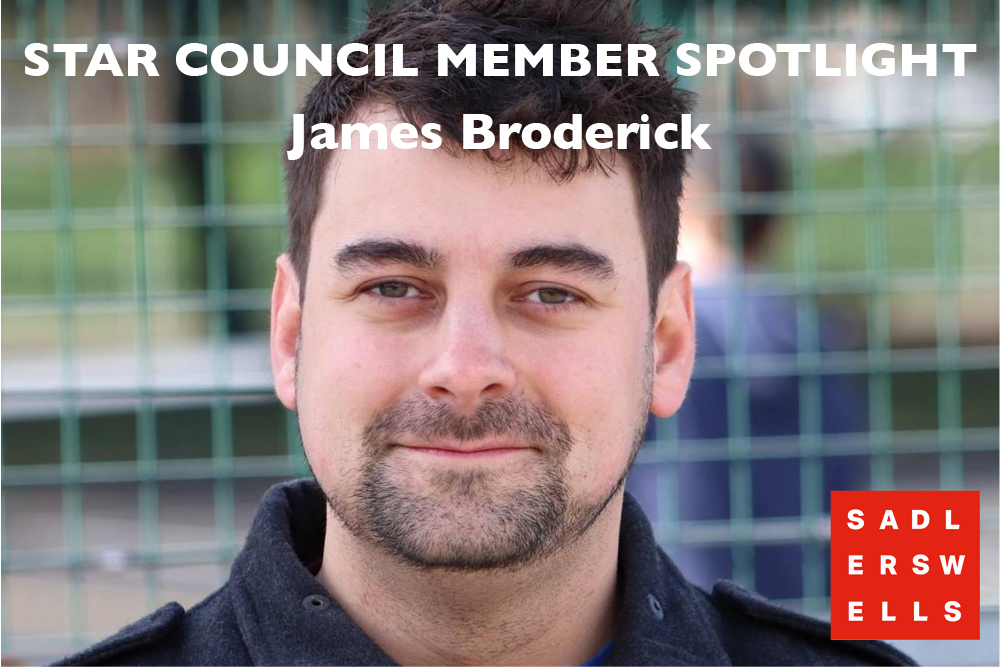 Could you introduce yourself and share a bit more about your career?
I'm currently Head of Ticket Sales at Sadler's Wells and have been working in the ticketing industry for around 14 years. Before that, I studied Drama and Theatre Arts at Goldsmiths University (with my fellow council member Pauline) and then had stints backstage before finding my way into ticketing. I've had a few different roles across the industry both in regional theatres and in London, including managing box office teams in Northampton and Leicester and leading ticketing system developments at the National Theatre.
In my current role, I'm proud to lead an amazing team responsible for sales and revenue, system development and ticketing operations across Sadler's Wells' three theatres. I also work closely with our system providers, Tessitura, to run community user group meetups that bring together ticketing and sales professionals from different organisations that use the system.
What do you value most about being a STAR Council member?
I really value the opportunities for collaboration that the STAR council brings. There is such a range of remarkable professionals from across the industry within the council and I really enjoy being able to learn from different areas of the industry and work together to develop new ideas that will help us all provide amazing experiences for our audiences and support the industry where we can.
In your opinion, how would you describe STAR's contribution to the industry? And specifically, during the pandemic?
I'm really proud of what STAR has been able to do for the industry over the last year – both for customers and for organisations. STAR has been invaluable in helping audiences navigate the often complex processes of cancelled performances and refunds, and have ensured customers feel supported and prioritised by the industry through this difficult time. The society has also helped us develop consistent processes across all our organisations so that customers know what to expect and have a similar experience no matter who they book with.
As well as all of this, I think it's amazing that we've been able to find new ways to support our members in a year where training and development opportunities have had to take a back seat. By introducing webinars and online training sessions, STAR has been able to provide moments for members to take a step back and reflect on their work and develop their skills.
Is there anything you have learned personally during the pandemic that you will take forward with you into the future?
There are a couple of things I'd take from the pandemic. Firstly, I think it's important that we recognise the amount of resilience we've all developed over the last 18 months and – whilst I hope we won't need that resilience all the time – it's great to know that we are able to deal with crises and work our way through so much change and uncertainty.
In a similar vein, I'm going to embrace the unknown a bit more. Over the pandemic, we've all had to jump into projects without much knowledge of exactly what we'll be doing or been addressed with challenges we've never had to face before. Whilst these were sometimes terrifying, I know that these unknowns led to some of the most innovative solutions me and my team have come up with. If we can face the unknown a bit more in our everyday work, I'm hoping we'll also be able to bring some of that innovation with us.
What wellbeing strategies have you put in place to support yourself and your team over the past 18 months?
I think it's really key to separate work from non-work life, especially when working from home. I remember the first few weeks of the pandemic, working from the sofa on my laptop and seeing lots of people doing the same. I was fortunate to be able to set up a separate space to work in and that definitely improved my wellbeing as it meant I could properly switch off after working and find time to wind down and focus on myself without work being in view. I also took up running (of sorts) which was a great way of getting out and improving both my mental and physical health, which I hope to keep up even during the winter if I can!
What advice would you give to managers across the industry to ensure they prioritise wellbeing for themselves and their employees?
For me, the most important thing is always to have open and honest conversations with all the members of your team about how you, they and the organisation, can best support their wellbeing. There's no 'one size fits all' approach to wellbeing and the only way to work out how to provide that supportive environment is to take time for that conversation and be open to ideas and suggestions. At Sadler's Wells, we developed Wellness Action Plans which provide a structure for us to have those kinds of conversations with our teams and create a shared understanding of what we can do to support our own and each other's wellbeing. Having these open conversations and creating these action plans have also helped us to make the work environment a safe space in which to discuss our wellbeing and mental health in general.
Last but not least… if you had a magic wand, what change would you most want to see in ticketing for live events?
Do you know what, if you'd asked me this question before the pandemic I would have said that I'd love to see the ticketing industry embrace technology more and become digital first. I feel like we've actually managed to achieve this and I really think we've seen a step change in the industry towards digital ticketing, customers being able to self-serve online and offering a more integrated experience. So I guess I'd love to see us continuing down this path, finding new areas for innovation and eventually being at the forefront in customer-facing technology.