Managing an alternative dispute resolution service during the pandemic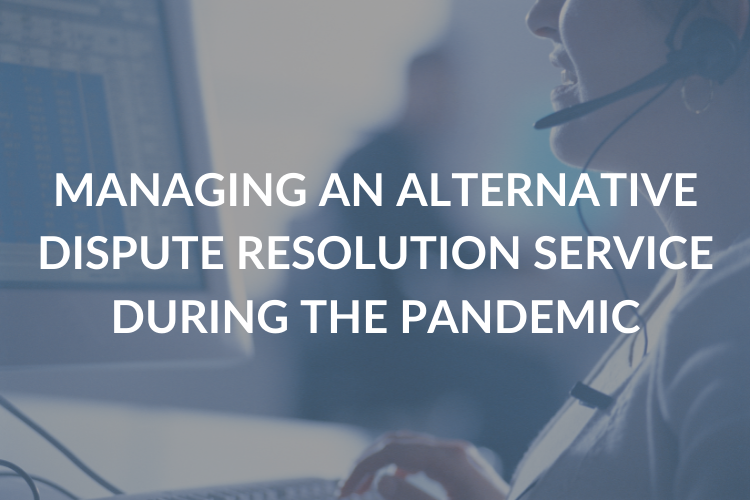 The challenges of the past eighteen months have been experienced in all industries, some positively, but most of them negatively. The live entertainment industry – something that brings thousands of people together in theatres, arenas, stadia and festivals – came to an abrupt halt on Monday 16 March 2020 when, shortly before many evening events were about to start, Boris Johnson suggested that the public 'should avoid pubs, clubs, theatres and other such social venues'.
At that time, our office was based alongside the offices of York Theatre Royal and we saw first-hand how they had to scramble to make sense of the announcement – not a prohibition on events taking place, simply government 'advice' that audiences should avoid them. Like many theatres across the country, they cancelled the evening performance and so began a long, long silence.
The situation
When the government's advice hit the headlines, our country's population began to realise that this pandemic is here to stay, that it will have a much larger impact than we had all anticipated, all while knowing very little about the disease itself. It was all so new.
Everyone had to adapt, in one way or another, to the evolving circumstances, to navigating ongoing change without knowing when it would end. As an industry that relies so heavily on in-person activities, this new way was particularly daunting – be it from an employer, employee or customer perspective. An important comment was made to us by one of our members as we entered that first lockdown. It was simply a recognition that, in these extraordinary times, there needed to be a balance between looking after customers and being sensitive to an industry in crisis.
We are used to single events cancelling, or perhaps a run of events or even a tour. However, the industry has never before faced the cancellation of every single event for an indefinite period and with a need for some ticket holders to be refunded within fourteen days. Factor into that complex sales and distribution channels – for example multiple ticket agents for venues and events – and the challenges that had to be faced were enormous.
Cancelling events & staying hopeful
Something that is often misunderstood by customers is that ticket agents sell tickets on behalf of organisers and venues. Therefore, decisions about what would happen to events affected by Covid were not in the hands of the ticket agents, but with those putting on the shows. Agents had to wait for information to be passed to them from their clients before they could start any sort of remedial process with ticket holders.
When a live event is cancelled, it's often the case that it's rescheduled. Customers are transferred to the new date but can cancel and get a refund if they don't want to take that up. Trying to reschedule an international tour during a worldwide pandemic with no end date is a tough call. No refunds could be given by ticket agents until the event was officially cancelled or rescheduled by the organisers. In some cases, ticket agents also needed to retrieve advance sales from the promoters, producers and venues who were holding them.
However, customers weren't pressing for refunds as much as was expected. They had tickets for something they wanted to see and still wanted the opportunity to see it in the near future – they were hopeful. The vast majority did express patience and kindness and a remarkably high number of people accepted credit rather than a refund or rolled their booking onto a rescheduled date.
The regular changes made to government targets and rules made the situation even more challenging and increased the sense of uncertainty in an already affected industry.
ADR in numbers
We have seen a steady increase in the number of disputes we handle since we were approved for ADR in 2017. Here is the month-by-month volume of disputes we received from January 2018 until the end of September 2021. Things spiked for us in April last year, slowly diminishing to the same sorts of levels as previous years. However, it's worth remembering that few events took place after mid-March 2020 – so these were similar numbers of disputes as previous years, but in a period with no shows. Following the restart of events in July this year, we've seen high numbers again, with September this year being our busiest ever month. and October looking as though it might exceed that.
Of the 1,533 disputes we received in 2020, 1,200 related specifically to issues arising from the pandemic. However, a high number of these were in respect of a particularly difficult issue involving tickets sold in the UK for events elsewhere in Europe, particularly Spain and Portugal, where there had been some Covid related changes in the law regarding refunds for live events.
Thanks to the hard work of the team, we have, despite the high number of cases, been able to stay within our approved timescales. However, while our average turnaround for full ADR cases was 29 days in the year to May 2019, it went up to 49 days in 2020 and a little bit higher at 53 days this year. The time limit for us to process full ADR cases is 90 days.
We are also delighted to have completed and passed our biennial audit review this October, led by the Chartered Institute of Trading Standards, which demonstrates that our ADR scheme is effective and valuable. Click here to view our profile.
The Secretary of State has delegated responsibilities for dealing with applications and approval in its role as Competent Authority under the Alternative Dispute Resolution Regulations 2015, to the Chartered Trading Standards Institute (CTSI).
The Chartered Trading Standards Institute (CTSI) is a not-for-profit membership organisation founded in 1881 to support and represent trading standards professionals in the UK and abroad. Their ethos is to ensure sustainable excellence in local trading standards services and the continued development of trading standards professionals.
Notable issues
A big issue for customers has been that they originally paid for tickets on cards which have since expired or for which they have closed the account. Merchant Services agreements seem to vary, but some require that any refund must be made to the original card details. This is frustrating for both consumers and traders, as it can mean that funds disappear into the banking ether and there is a need to wait some time until they surface again.
Customers contacting us before reaching stalemate with the ticket seller. This has meant there are few cases going through our full ADR procedure. Many customers contact us suggesting the ticket seller is part of a scam, or their tickets are fake, simply because they haven't heard from them or received an outcome within a couple of weeks. Most of these customers need reassurance, an update, and sometimes a more detailed explanation. We are usually able to reach an early resolution on these.
We have continuing issues around ticket holders not receiving information about rescheduled dates. Not through any fault of the trader but because emails have got lost in junk or spam filters.
With events restarting, venues have put in place requirements for Covid safety – for example proof of vaccination or a negative lateral flow test. However, there are some customers who refuse to comply with those requirements. Most terms and conditions include something that relate the right of entry to an event to meeting any health and safety requirements imposed by the venue, but where this is absent, the issue can become more complicated.
There has been a shift in customer expectations about their ability to cancel confirmed bookings for events. While traders have put in place systems and policies to help ticket holders who can't attend because of Covid, the usual non-cancellation terms apply in all other circumstances. For many years, most ticket sellers have offered add-on ticket protection that customers can buy to cover their potential loss of the ticket price if they are unable to attend.
A small team with big challenges
Following the government announcements back in March, we went out speedily with messaging to our members and to customers on our socials and website. It was inevitable that, with so many ticket buyers for thousands of cancelled events across the country, the ticket industry would be overwhelmed with customer service issues. Our messaging simply asked customers for patience and kindness. These have become our keywords during the pandemic, and both have proved to be extremely necessary and relevant.
As a team of three, it might seem easy to adapt to a new way of working, but with an increase in requests, we had to make sure no time was wasted communicating among ourselves. After being forced to work remotely in March last year, much like everyone else, we quickly tried new technology to make communication easier. One tool that has been invaluable is Slack. It has enabled the quick conversations that we might have had in the office to continue away from emails, texts or WhatsApp. We've also used it to communicate with our board and some of our members. Zoom has been our video calling system of preference. In addition to our own team meetings, we have used it extensively for webinars for our members and other meetings.

The three of us try to meet regularly in person. Something which usually involves delicious treats. Also, a more structured schedule has evolved for review meetings, case allocations and general catch-ups. Throughout the pandemic the timings for processing cases have been reviewed and tweaked depending on the volume and types of issues that arise – one of the benefits of being a small team is that we can be flexible.
Fluctuating workload and uncertainty have been our biggest challenges. The less capacity we have for new disputes, the less time, focus and space we have to investigate wider issues to get some clarity. The less clarity we have, the less we're able to progress and get back to customers and traders quickly, leading to backlogs which then further impede our capacity.
For us, this situation is current and will continue. Events have started taking place again at full capacity, but ultimately, they may remain slightly different to the events we knew before March 2020 for some time. We are now as busy as we were in late spring last year and our members are in the same position, but tickets are selling and ticket holders are enjoying events once again.
Looking ahead
We are now at a point where there are many future events on sale. This represents new money into the industry and provides the resource and encouragement for customer services teams, and other infrastructure, to be built back up – although recruitment is proving harder than expected for some.
The current situation for ticketing companies is that they are still dealing with thousands of queries across thousands of events, many of which are long in the future. Therefore, they must prioritise those that are most urgent and for events that are coming up in the immediate future, though customers of course don't always understand that, are impatient and, understandably frustrated. Restrictions, entry requirements, mobile tickets, rescheduled events, exchanges, customer error, all lead to enquiries from ticket holders. In the minds of customers who are excited to return to seeing shows and concerts, the pandemic is over, and they expect everything to be back to normal. "Covid is no longer an excuse", they have told us. However, for the live events industries, the recovery of businesses is only just beginning.