How to identify ticket fraud on social media (and what to do about it)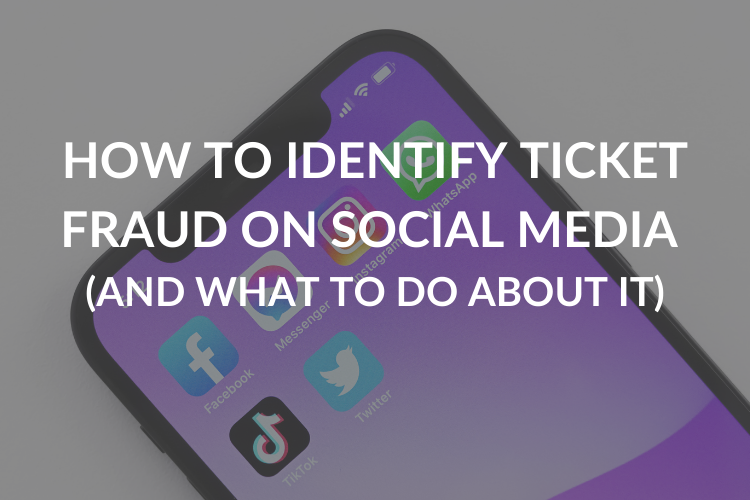 Social media platforms are used by 4.48 billion people worldwide, equating to 57% of the global population (Datareportal, 2021). They have revolutionised the way organisations do business and interact with their customers through increased accessibility, user-friendly interfaces and convenient features. Consequently, consumers increasingly rely on social media when engaging with companies, and these channels have now become the first point of call for… anything. However, interacting on social media with people outside of your network can be unsafe. From fake news to payment scams, how can you truly trust who you are talking to? 
According to Action Fraud, "the most common type of ticket fraud victim to report to Action Fraud is a man in his twenties. 51.9% of men reported falling victim whilst 48.1% of women reported. Those in the age group 20-29 most commonly reported to the service." (West Yorkshire Police, 2020). These age groups are particularly articulate with technology and social media sites, meaning that scammers use highly persuasive techniques.
This article breaks down the common signs of ticket fraud on social media and what to do about them.
– If it sounds too good to be true, it probably is.
Illegal ticket sellers use sophisticated techniques to appear trustworthy. If you're eager to get a ticket to a sold-out event, you might not even look further than what they have to offer. From heavily discounted tickets to supposedly unmissable offers, if they sound too good to be true, they probably are. Those promised tickets may not even exist.
They might also do their homework and drop in some of your friends' names in the conversation (who they pretend to know) or mention common hobbies to make themselves sound more credible. Please don't buy into it! They may have chosen names from your social media friends list, checked your interests and pages you 'liked'. If in doubt, challenge their statement and check with your friends. If anything sounds odd, leave the conversation.
– The seller's profile information doesn't add up
If you happen to be in touch with someone offering you tickets, check their social profile thoroughly. While some fraudsters will curate their profile to come across as trustworthy, some signs could affect their credibility. Inconsistencies or vagueness may suggest they are potential fraudsters, such as (but not limited to):
There are no photos of themselves on the profile
They have very few or no followers on their profile, or they follow numerous similar, fake accounts
Their location is very far away from where the event is taking place
They only have spam-like messages on their feed, or what they write doesn't seem genuine
Look out for these clues, and remember to trust your judgement. If something doesn't feel right, put a hard stop to the conversation.
– The seller is pushy and relentlessly asks for payment (by bank transfer)
Fraudsters may take the time to convince you of the authenticity of their offer, but once they're close to sealing the deal, they will most likely become insistent and encourage you to pay promptly. Scammers will also commonly ask you to make a payment directly to their bank account so that it becomes hard to trace, and they have no legal cause to refund you. They will happily push you into a guilt trip or increase the price (among other manipulative techniques) to get you to make that payment. Until you pay, you are in control, and you can walk away from the situation at any time.
Legitimate organisations and ticketing agents would not pressure you into buying a ticket, nor would they allow a bank transfer as a payment method.
– The seller is offering tickets that are not yet on sale
You heard about an event, but the tickets aren't being sold on the official channels yet. If the tickets aren't officially on sale, this means the fraudster doesn't own those tickets yet. If you part with your money before tickets are available, you will most likely never see those tickets, nor your money.
Before agreeing to anything, check the official event website and make sure the tickets have gone on sale. If they are available, it is much safer to buy directly through the venue's website or their authorised ticket agents. Buying from an unknown source could cost you so much more.
What to do about it:
If you can relate to any of the situations mentioned above, here's what you can do about it:
Don't buy into what they tell you and cut the conversation short.
Report and block the contact on the social media platform, so they cannot contact you again or see any of your content.
Report them to Action Fraud, the UK's national fraud reporting centre: www.actionfraud.police.uk
Tell your family and friends and inform them of the risks of social media scams. Awareness is key!
Buy your next event tickets from a member of STAR for a safe, authorised and trouble-free ticket buying experience. STAR also offers an approved Alternative Dispute Resolution service to help customers resolve outstanding complaints.
Once you have your ticket in hand, don't share it on social media! A common source of ticket fraud online is due to event-goers posting a photo of their tickets on social media, allowing scammers to steal and resell the ticket's information. By keeping the ticket information to yourself, you'll prevent many future event go-ers from falling victims to ticket fraud.
It doesn't stop at social media. Watch out for random text messages sent to you from people you don't know or on classified ads websites), which have seen many fraudulent practices when it comes to ticket selling.
There are some important rules that everyone must follow when engaging with new people online, including social media platforms:
Never share personal details, banking information or passwords with anyone over a platform that could be compromised or easily accessible by the wider public (eg. social media profile, forum, etc).
Never click on links sent to you without verifying that they are indeed legitimate. Even if they came from a friend. Your friend may have been scammed without realising, so if you receive a link from them, confirm that they sent the link before clicking on it.
If in doubt, or if an unknown person contacted you out of the blue with a link, ignore it.
If you see a promotional advert for event tickets, do a quick search on your browser for that promotion. If the event or venue is advertising an offer on social media, they will also display it on their website.
If you click on a social media advertisement, check that the URL of the page corresponds to the product or service in question. Make sure it's not a fake website by checking the spelling of the URL and don't input your email or any password on that page. Legitimate sites would not ask you for personal details – such as your name or email address – at that stage of your purchase journey.
Additional resources: