BUYING TICKETS SAFELY STAR / ACTION FRAUD CAMPAIGN JUNE 2019
Your support for this campaign – raising awareness to prevent ticket scamming and the misery it causes ticket buyers,
as well as the benefits of buying from STAR members like you - is hugely appreciated.
SUMMARY OF ASSETS WE'VE CREATED FOR YOU TO AMPLIFY OUR CAMPAIGN:
Safe ticket buying guide in PDF format to host on your website
Social media: 5 'Top Tip' and one case study images for your Twitter, Instagram and Facebook accounts
Guest blog
STAR and Action Fraud logos
THE PURPOSE OF OUR CAMPAIGN
Our principal aim is to help educate ticket buyers about taking care when buying tickets to help protect themselves from fraud. We are partnering with Action Fraud on this as they are the central fraud reporting agency and collate statistics on reports of fraud. A key piece of their advice is for customers to check whether they are buying from a member of STAR and we are very grateful for this high level of support from law enforcement. The campaign also has the support of Margot James MP, Minister for Digital and is also being supported by government departments, DCMS and BEIS, as well as other consumer protection partners.
PRESS CAMPAIGN
Action Fraud is leading on the press campaign. The release will go out to key titles over the weekend and is embargoed until 0:00 on Monday morning. Please respect this embargo.
The release includes a case study of a mother and daughter who were defrauded when buying tickets and they will be available for media interviews, alongside Pauline Smith, Director of Action Fraud and Jonathan Brown, Chief Executive of STAR.
Given that the stats reveal young people are disproportionately affected by ticket fraud, we're also targeting the likes of Buzzfeed and Refinery 29.
Please let us know if you have personal media contacts you would like us to engage with.
DOWNLOAD PHOTO OF SOPHIE AND JULIETTE (CASE STUDY)
SAFE TICKET BUYING GUIDE
Our guide is available to you as a PDF to host on your own website. It is a long, scrollable document that has been created with mobile in mind.
On our own site, we have provided a URL that redirects to the PDF. You can see this at www.star.org.uk/buy_safe
DOWNLOAD THE TICKET BUYING GUIDE
SOCIAL MEDIA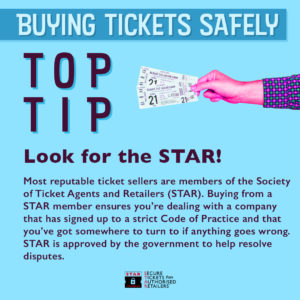 We have five 'Top Tip' and one case study images available in formats for Facebook, Twitter and Instagram.  You are free to use these as you wish during w/c 10 June. For example, you may choose to use one each day, for example. We would suggest that, in the post, you reference your own membership of STAR and either your own link to the full Safe Ticket Buying Guide, or ours (www.star.org.uk/buy_safe)
Please also tag @STARtIcketing and @ActionFraud and include the hashtag #LookfortheSTAR
As examples :
We are proud members of @STARticketing take care when buying tickets - read our guide and #LookfortheSTAR @actionfrauduk www.star.org.uk/buy_safe
As we are members of @STARticketing, you can trust we are an authorised ticket seller. Avoid fraud - read our guide and #LookfortheSTAR @actionfrauduk www.star.org.uk/buy_safe
GUEST BLOG
We have a blog piece available for members to use on their own sites which has been written by Pauline Smith, Director of Action Fraud.
E-SHOTS
We hope that you will feel able to communicate with your customers about the campaign and some of you have already told us you will be emailing your customers about this. We also realise that you will wish to do this in your own style and language. However, we would ask you to ensure that you reference the following:
Include the STAR logo. You may also wish to include the Action Fraud logo.
Ticket fraud is a continuing problem for consumers, but this can be reduced if ticket buyers take care when buying tickets.
We are proud members of STAR which is the self-regulatory body for the ticket industry and is approved by the government to help resolve disputes. Buying from a STAR member ensures you're dealing with a company that has signed up to a strict Code of Practice and that you've got somewhere to turn to if anything goes wrong.
This week, STAR is working with Action Fraud, the UK's national fraud and cyber-crime reporting centre, to highlight the issue and provide advice to consumers.
STAR has produced a guide which gives Top Tips to help you know how to buy tickets safely avoid fraud. [link to guide – our link is www.star.org/buy_safe, but you may be hosting a copy of the guide on your own site]
If you have any questions about wording or would like to check anything, please do get in touch.
Rachel Dunachie, PR, rachel@abiskopr.com ‭07793 902318
Jonathan Brown, jonathan.brown@star.org.uk 01904 234737
Megan Conman, megan.conman@star.org.uk 01904 234737
Thanks again for your industry-leading role to help us combat ticket fraud and increase consumer awareness.