MONDAY 10 JUNE 2019
Action Fraud warning as victims lose average of £365 to ticket fraud
Between 1 April 2018 and 30 April 2019, Action Fraud received 4,755 reports of ticket fraud.
The total reported losses to victims was £1,654,888: an average of £365 per victim.
With lots of music concerts and sporting events taking place in summer, it is an opportunity for fraudsters to take advantage of unsuspecting fans.
New awareness campaign launched with Society of Ticket Agents and Retailers (STAR) to encourage informed purchases from authorised sellers.
Action Fraud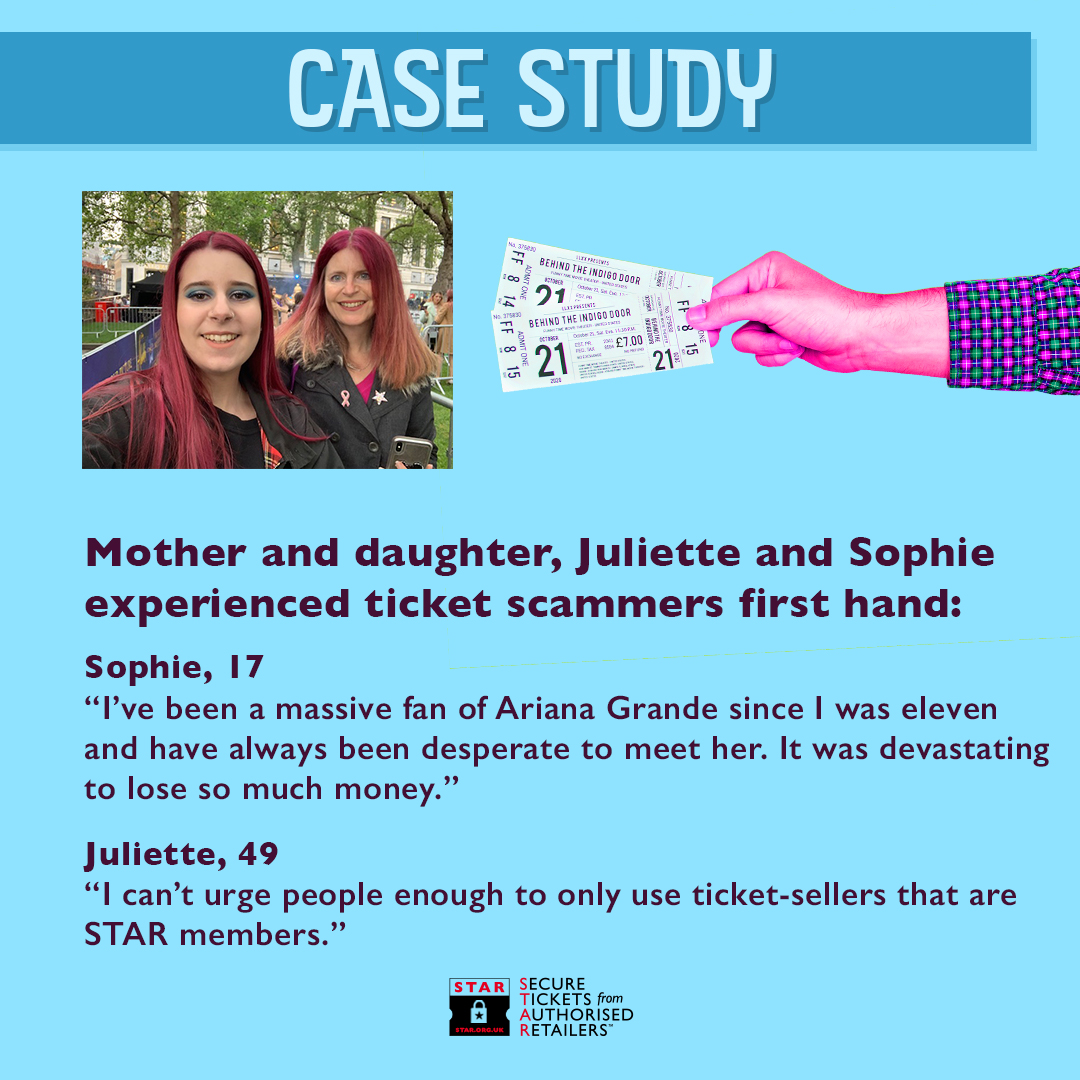 is partnering with the Society of Ticket Agents and Retailers (STAR) to urge people to avoid fraud by taking more care when buying tickets for live events.
Fraudsters will pose as a website or agent for a music concert or festival, a sporting contest, or a live comedian or performer, meaning victims will purchase tickets that either don't arrive or turn out to be fake. So, consumers should always check the contact details of the site they're buying the tickets from. 
Last Year, Action Fraud received 4,755 reports of ticket fraud, a decrease of almost a third from the 6,486 reports received in the previous 12 months. It is likely that this was as a result of an increased number of alerts issued that warned people about fraudulent tickets, especially ahead of the World Cup in 2018.
However, there was a spike in reporting in August 2018, in which 539 reports were made. This suggests that fraudsters took advantage of people during the peak season for ticketed events such as music festivals.
Director of Action Fraud, Pauline Smith, said:
"Fraudsters take advantage when music and sports fans are keen to get tickets for high profile events. This is why it's so important that people are vigilant and aware that there are fraudsters all over the globe trying to make money out of innocent victims.
 "To avoid disappointment, always buy tickets from an official event organiser or website and if you are tempted to buy from a secondary ticket source, always research the company or the person online before making the purchase.
"If you think you have been a victim of ticket fraud, report it to Action Fraud."
Jonathan Brown, Chief Executive of Society of Ticket Agents and Retailers added:
"Buying from a STAR member means you are buying from an authorised ticket supplier signed up to our strict code of practice. While we hope you never have to use it, this also gets you access to our approved Alternative Dispute Resolution service.
"Today's highly sobering figures reveal that, although most of us think we can spot a scam, in fact victims of unscrupulous ticket dealers come from all walks of life.  Younger people are especially affected – prompting us to launch a bold new campaign with Action Fraud to reach this market."    
People are advised to check that there is a landline phone number and a full postal address for any website they are buying tickets from. People should avoid using the site if there is only a PO Box address and mobile phone number, as it could be difficult to get in touch after they buy tickets. PO box addresses and mobile phone numbers are easy to change and difficult to trace.
Action Fraud recently warned football fans planning to travel to the Champions League Final to be cautious when buying tickets or accommodation because the event is likely to be targeted by fraudsters looking to take advantage of unsuspecting fans.
Fraudsters create fake websites with URLs similar to that of a genuine site, so people should double check the web address to make sure they're on the correct website. Any webpages that ask for personal or financial details should start with 'https' and display a locked padlock icon in the address bar.
Margot James, Minister for Digital said:
"It's completely unacceptable that people are still being ripped off in the ticketing market. The Government has banned the use of ticket bots and is working with industry to find solutions that will kill off crooked practices once and for all.
"We continue to support action by enforcement agencies who are going after those who flout the law, as well as efforts by STAR and Action Fraud to raise awareness of how consumers can protect themselves from ticket fraud."
Tony Neate, CEO of Get Safe Online commented:
"Clever criminals will try every trick in the book to make us part with our hard-earned cash. One way they'll try and do this is by luring fans into buying tickets for concerts and sports events which are sold out.
"Many of the adverts for these fake tickets seem like 'too good to be true' offers, with tickets often being heavily discounted. However, this means people often act before thinking. The 'Surfed Arts' ticket hoax clearly demonstrates how easily we can be duped when we think there is an offer to be had. Luckily our scam didn't have a nasty surprise at the end, but some useful information on how to protect yourself against ticket fraudsters. 
"To avoid becoming a victim, do as much research as you can to ensure that the provider or person you are buying from is reputable. Also, when buying an event ticket, use a credit card if you can to ensure you are protected when paying. If someone asks you to transfer money directly to them, you'll have absolutely no protection if you are scammed."
Kiaron Whitehead, BPI General Counsel, said:
"The BPI has a strong working relationship with the City of London Police in relation to music piracy, and we commend their work in reducing all types of fraud. Fans should remain vigilant to the risk of purchasing tickets to music concerts and other events from scammers who end up delivering fakes, or who end up never actually delivering anything at all.  Protect yourself by only purchasing tickets from reputable sources and using a credit card, instead of a bank transfer, wherever possible – and if in doubt, contact Action Fraud."
There are steps people are advised they can take in order to protect themselves, including:
Only buying tickets from the venue's box office, official promoter or agent, or a well-known and reputable ticket exchange site

Avoiding paying for tickets by bank transfer, especially if buying from someone unknown. Credit card or payment services such as PayPal offer greater protections against fraud;

Being wary of unsolicited emails, texts or adverts offering unbelievably good deals on tickets. If it sounds too good to be true, it probably is;

Is the vendor a member of STAR? If they are, the company has signed up to their strict governing standards. STAR also offers an approved Alternative Dispute Resolution service to help customers with outstanding complaints. STAR has also published an online guide to buying tickets safely which can be found at

www.star.org.uk/buy_safe